Images are now playing a vital role in every segment, whether it is for personal or business use. There are plenty of resources available for image editing services. But it depends on your decision. From where do you want to take this service?
In that case, you may choose an image background eraser tool or the Photoshop service. The online background eraser tool gives you a quick overview. Photoshop manual work takes a small process to complete the task. It works based on your requirements.
How does the Image Background tool and Photoshop software work?
The image background tool isolates the unwanted area with a different color and removes that area within a few seconds. The automatic process will generate the outcome. You just have to upload the image you want to edit.
Whereas, the Adobe Photoshop software focuses on the depth of the editing process. The tool selects a particular area. This is useful for a complex picture that contains so many details. It gives smooth edges around the object.
Let's see the difference between the implementation of these two tools. Below we can see two pictures of one product.

The first photo "Image A" is edited using the background removal tool using an API. Though it has isolated the unwanted background, you can spot that it didn't bland the edges properly. Another big mistakes online tool failed to difference between product and stand, which has been kept as a support during Photo shoot.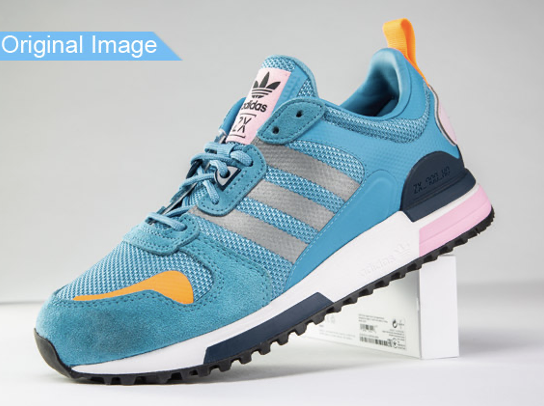 In the second picture "Image B", the image is edited through Photoshop work. It removed the background, leaving no error.
An image with a white background will present the eCommerce store as a professional. However, if you want your pictures to be edited and look even more experienced, you can outsource the tasks or hire a clipping path service provider.
Are you hesitant about which tool to use? Maybe the pros and cons will solve your confusion. Here are some to look for:
Pros of online image Background Removal tool
Time
This process is incredibly time-consuming. You will get the outcome within a few seconds. Above, the first picture didn't take over 10 seconds. That saves you valuable time!
Easy to use
Editing a picture is simpler. You just have to click on the link and upload your desired photo. And it will automatically alter the picture. Later you can download the picture for further use. For the retailer or frequent users some providers give the access of API.
Easy to access
Usually low configuration devices like mobile phones, tabs become an obstacle to remove the background. But, an online background removing tool supports low configuration devices.
No technical or designer skills needed.
The advanced features help to isolate the background from a complex image and transparent image.
Cons of online image Background Removal tool
Inferior quality
Using an online tool will not give you an accurate result. For a complex image, it is difficult to generate a good quality image. Also, it doesn't support the high-resolution image file.
Loads of edges
From the first picture you can see that there are piles of edges around the image. That decreases the quality and is not worthy of online use.
Reduces the chances of online use
To reach customers you need to upload the product's picture on Amazon, eBay, Bonanza, etc. They don't allow any damaged pictures or inferior quality pictures. As an online tool doesn't provide accurate results, your picture will turn into a low-quality image. That reduces the charm of the picture.
High price
The price of the image background removing tool is a bit higher than the Photoshop image editing service. It will cost the utmost 20 cents per image.
As mentioned earlier, it never gives an accurate result. The customized editing feature is no available at all. After revising the product f you find any error, you have to re-edit the picture. This will again charge an amount.
By using an online editing tool you will get PNG supportive image. But that doesn't clear all the noises or smooth the edges. These tools never provide a high-resolution format like PIR or PSD.
Most of the time, you have to pay in advance. So, if you don't get satisfied with the service, there is no refund option.
These are the pros and cons of an image editing service on an online tool.
Pros of Photoshop Background Removal Service:
Quality
When you take a service; your first concern is quality. Photoshop editing software helps to edit or generate quality images. Experts create 100% hand-made Clipping Path to trace the edges. An editor will follow your requirements and apply the custom instructions to bring the best outcome. Which is not possible to give instructions to the online tool.
Low cost
The price of the Photoshop editor service is quite lower than online image editing tools. It will cost you 10 to 15 cents per image. Most of the image editing services are providing bulk image discount offer. That is beneficial for you if you are a new entrepreneur or an existing one.
Photoshop image editing software removes the background, without leaving any edges. The editor uses a hand-drawn process to remove the background. So, the worry about a perfect cut out is not obligatory.
Photoshop background removal service provides you after-sale service. You can recheck, modify, or change a certain part of the image after getting the service.
No matter what the number of pictures are! You can place a bulk order of number. And will get the same quality services.
Also, without just removing the background, Photoshop software can add additional features. Like drop shadow, reflection shadow, etc. The price of these features doesn't change more than the offered price.
Photoshop software provides a high-resolution image file. That holds the quality of the image. For high resolution, you can ask for PSD OR TIF format files.
The paying method of the Photoshop editing service is postpaid. Which is secure and no risk of losing money!
Cons of Photoshop image editing tool
Time-consuming
It takes 3 to 4 minutes to edit a picture. But the plus point is the quality remains high. By checking one picture, you can judge the bulk order.
It does not support automatic devices. The entire process requires a human response.
Photoshop software does not use any API files.
How do you know if you need this service?
Well, your business type will tell you if you need this service or not! If you are an e-commerce owner, editing agency, photographer, event management agency, magazine editor, you definitely need this service.
Now you have to decide between the online tool and Photoshop tool services. By now you may have gathered ideas on which one will be beneficial for your business.
Quality matters, right! Foto Masking is serving with quality and the lowest price since 2009.
Conclusion
Both the image editing service through online or Photoshop tool is useful for you. Just keep in mind, which one is compatible with the long-term?
An eye-catchy and fascinating picture improves business or business sell. Using the online tool will give quick service, but the quality may fall. Whereas a Photoshop software tool will give you a finishing touch on the photo. An expert editor uses a hand-drawn method. That helps to remove the edges perfectly. And the chances for the low-quality image are 0%. You will get different file format option to save an image. Photoshop software provides PSD, PSB, TIF, PNG, JPEG, RAW files, etc. That maintains the quality of an image.