Introduction
These days, you do not have to be dependent on an expert to create the basic floor plan for your dream house. With an abundance of online resources, creating a floor plan has become considerably easy. That being said, creating a floor plan requires precision, an understanding of the layout, and a lot of technical knowledge about dimensions, measurements, and elevation. However, with the advancement of technology, you will easily find some great floor plan software that will help you make your detailed floor plan easily.
In this detailed comparison article, we have laid out the top 6-floor plan software that helps beginners and professionals create floor plans more easily and accurately. Check out our selection of the best floor plan software tools available to bring your dream home to life.
EdrawMax
EdrawMax is a user-friendly floor plan software loaded with powerful features to make creating the perfect layout a breeze. With access to an immense library of symbols and pre-built templates, users will be able to whip up their desired design in minutes. EdrawMax also provides various tools like straight/curved wall design, a symbol library to select doors and windows (or even furniture!), built-in scaled tools, and more! Additionally, EdrawMax is available on Windows, MacOS, and Linux platforms as well as online.
In EdrawMax, you will find real-life symbols for a sofa, beds, table, chairs, and more, which helps in designing complicated floor plans.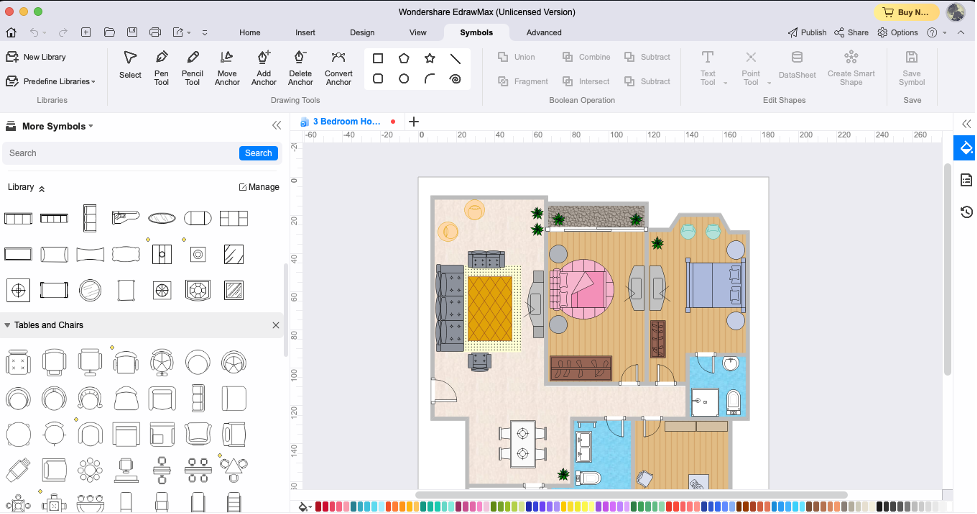 This 2D floor plan software offers a wide range of templates and symbols that helps beginners to create any complex floor plan easily. As a registered EdrawMax user, you will have to navigate to the user-generated template community section and look for Floor Plans — here, you will find hundreds of floor plan templates that you can instantly customize or duplicate for your use.
Features:
EdrawMax comes with 26,000+ vector-enabled symbols
It offers free floor plan templates
You can easily import and export MS Visio files for better collaboration
You can have remote collaboration with your team
EdrawMax is free to use and also offers a 7-day trial version
Cost:
Free Version
Subscription Plan: $99/year
Verdict: Go ahead with EdrawMax if you are looking for software that is easy to use, fits right into your personal and professional requirements, and offers free templates, symbols, support, and a lot many things.
FloorPlanner
Floorplanner is a points-and-clicks design tool with an extremely user-friendly interface. It offers drag-and-drop virtual objects for basic room features such as walls, doors, and windows. Plus, you can access a library of symbols representing furniture items like beds, sofas, tables, etc. It's the perfect tool to lay out the living space of your dreams in minutes!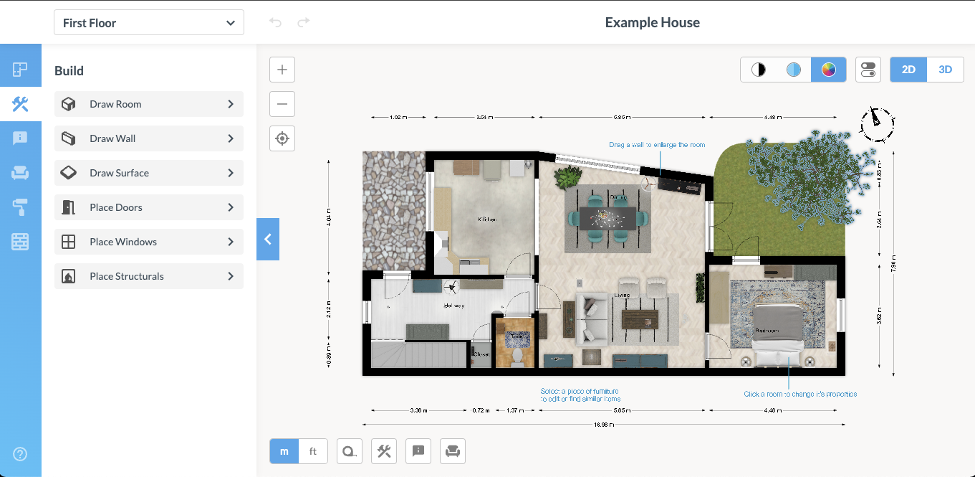 FloorPlanner allows you to make 2D diagrams of existing or envisioned floor plans. With FloorPlanner, you will control the project with easy customization options for walls, windows, and doors. Choose from various textures and finishes right on the design page — no need to download them separately. With FloorPlanner's robust toolkit, creating the perfect home layout couldn't be easier if you have a technical understanding of the tools, symbols, and layout.
Features
Floorplanner is an online platform that allows you to create 2D and 3D plans of any space with the exact look and feel you want.
With the full furnishing option, you can add items such as furniture or lights right away to see the final look of a room or house.
FloorPlanner comes with 150,000 drag-and-drop symbols.
It allows the generation of both 2D and 3D Graphics.
Price:
Free: Offers Limited Support
Plus: $5 per month
Pro: $29 per month and offers access to custom templates.
Verdict: FloorPlanner is a good floor plan software for those who only wish to create floor plans from their software. The free plan of this tool offers very limited features, but if you move to the pro plan, you can access custom templates.
RoomSketcher
RoomSketcher is an easy-to-use floor plan software with a helpful feature: a 3D visualization mode. You can switch between 2-Dimension and 3-Dimension views to get the perfect angle for interior design. The program has a great library with symbols for all types of household furniture, including beds, chairs, sofas, and much more. Once your dream layout is ready, you can also preview it in virtual reality!

With RoomSketcher, you can also take measurements of your room to ensure that all the furniture you plan to move in will fit. Add materials, like wallpaper, or pick from a wide range of colors and textures for your walls and floors to make your room even more special and personal. Overall, RoomSketcher is a great tool if you have some experience building and designing floor plans for your clients.
Features
RoomSketcher is an online floor plan and home design tool, perfect for creating detailed layouts of real estate properties.
It offers a great cloud-synchronization
It also allows a 3D view to visualize the floor plan.
Price
Free: Lets you see how to draw a floor plan in the app
Subscription Plan: Starts at $38 per level
Verdict: Go ahead with RoomSketcher if you plan to delegate the floor plan design to someone else.
Home Design 3D
Another top choice for professionals looking to design their home layouts is Home Design 3D. This software is available on Android and iOS platforms, making it a great option for anyone wanting to get creative with their space, no matter where they are present. Home Design 3D can be used to plan everything from furniture placement to wall height and color. Plus, the easy-to-use interface makes it simple for anyone to get started and make those design dreams come true!

Home Design 3D really stands out with its ability to export files in multiple formats. This means that anyone who chooses to use it can easily share designs with family, friends, or colleagues and seamlessly import their measurements into a more comprehensive program if needed. They also offer a large library of objects to include in your floor plans that cover virtually every style imaginable – from classic to contemporary. So no matter what aesthetic you're going for, Home Design 3D has you covered!
Features
It offers 2,500 pieces of furniture, accessories, and materials that can be fully customized to bring your design to life.
View the results of your project in full 3D
It has a great user community that offers user-generated templates.
Home Design 3D offers AR mode to iOS devices once the user subscribes to the Gold Plan.
Price
Free: AR is not available.
Gold: Details are not available on the official website.
Verdict: HomeDesign3D is a good augmented reality app that helps iOS users to check their floor plans. However, this premium feature is only offered on the Gold plan and is also limited to Apple devices.
AutoCAD LT
AutoCAD LT is a powerful floor plan software focused on precision and accuracy. This professional-grade program is customizable and tailored to your design needs. It comes with features like an automated wall, cabinetry, and dimensioning tools to easily draw 3D models that are accurate down to the tiniest detail. You can save time by reusing existing designs while customizing them to fit their new context.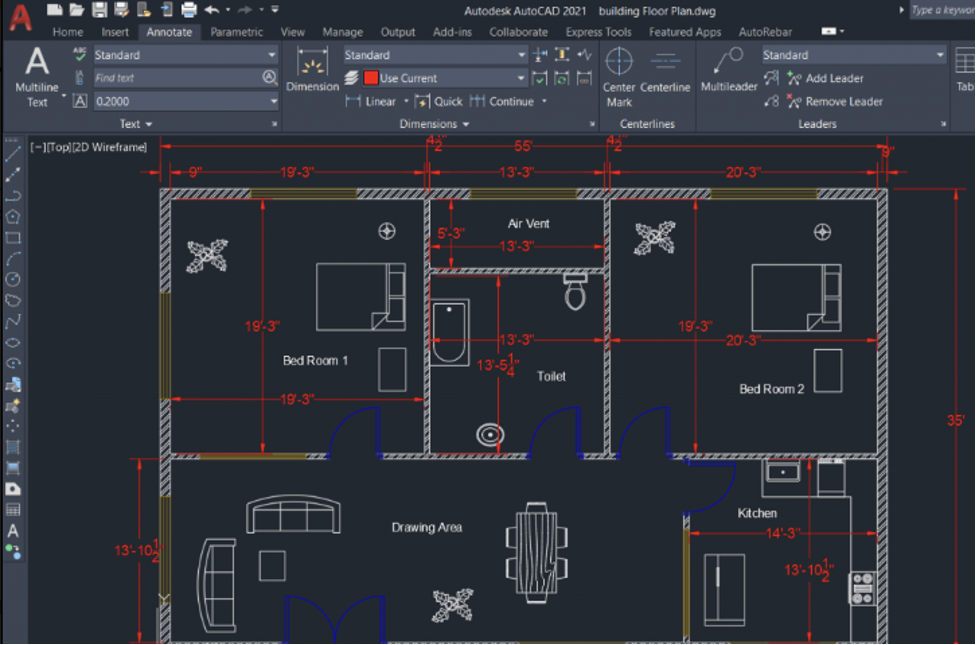 AutoCAD LT offers a library of more than 12,000 objects — including interior and exterior models of typically used items like furniture, windows, appliances, and more. This selection means you don't have to start from scratch when designing a new layout. Finally, AutoCAD LT provides real-time feedback so you can be sure your designs will look just as good when used as they do on paper.
Features
It features an easy-to-use drafting interface and improved workflow automation for faster design.
AutoCAD LT also comes with exclusive TrustedDWG technology for highly accurate designs.
AutoCAD LT is platform-independent.
Price
No Free plan is available
Subscription Plan: $60/month; $460/annually; or $1380 paid every three year
Verdict: AutoCAD LT is recommended to those professionals who have expertise in using AutoCAD in general. If you are a beginner, a student, or someone who does not wish to spend too much on floor plan software, there are other options available in the market.
Sweet Home 3D
Sweet Home 3D is an open-source floor plan software with a slick and easy-to-use interface. With this program, you can create residential, commercial, and industrial-level plans. You can draw walls and rooms using drag-and-drop elements. Other included features are the ability to import photos from a digital camera or scanner and interactive 2D/3D views for viewing your plans from any angle. There's also the option to change colors and textures for floors, ceilings, and walls of your space.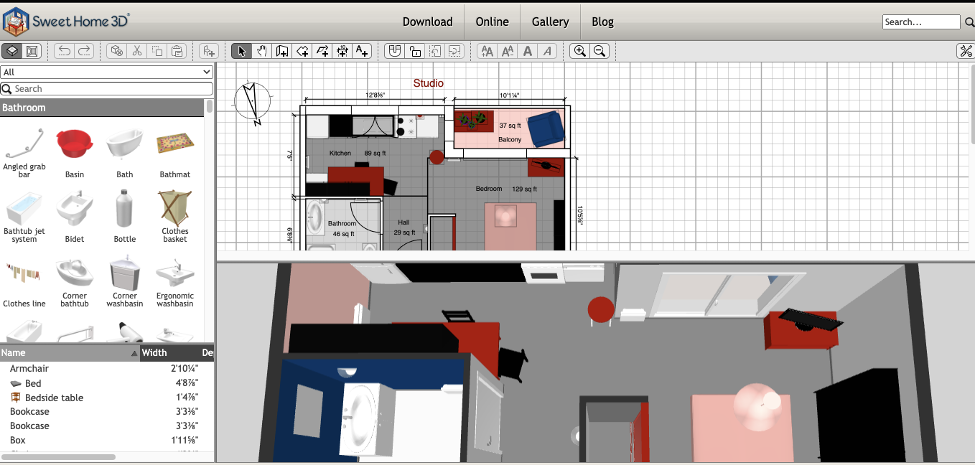 Sweet Home 3D is great for anyone looking to design homes quickly and accurately. With the program's wide variety of features, you can produce detailed drawings of even complex floor plans. Moreover, because Sweet Home 3D is open-source and free of cost, it's a particularly attractive option for budget-conscious people who need reliable floor plan software. Its exact measurements are a bonus, so if you have specific ideas for your dream home or office layout, Sweet Home 3D can help bring them to life.
Features
Sweet Home 3D is a free, user-friendly program designed to help beginners create 2D and 3D floor plans.
It allows users to construct straight, round, or sloping walls with doors, windows, and customizable furniture according to size, color scheme, and location.
'Photo-realistic' images provide easy visualization of the final product in all its glory.
Price
Free to use
Verdict: Sweet Home 3D is recommended to those just starting out. However, if you are a professional and need great templates and symbols, you might find that the tool lacks some premium features and in-depth customization options.
Conclusion
As you saw in this top 6-floor plan software guide, there are several good options when you plan to go ahead and create your dream home layout. However, the only question is the price and user-friendliness of the tool. There is some free home plan software, but they do not offer any premium support or templates. On the other hand, there are some great technically advanced floor plan tools, like AutoCAD, but the major downside of going ahead with such a tool is the technical expertise it requires.
If you are someone who wants to try their hands on floor plan software while accessing some free templates and symbols and is looking for software that is not limited to making floor plans, we highly recommend trying EdrawMax. This free floor plan software is trusted by over 25 million users and offers premium templates, customization options, and tools to help you make your floor plan easily. EdrawMax is an excellent floor plan software for providing user-friendly UI, professional symbols, and high customization options.