Perhaps you've noticed too, that within every creative generation, there are a rare few who have the bold audacity to manifest art entirely in the moment. Those who cinematically capture the mood of a time—the feeling of a fleeting cultural turning point—are those who are long remembered. Among such entertainment industry visionaries stands the multi-talented Enzo Zelocchi; an individual unafraid to wear every hat necessary to bring his on-the-pulse artistic visions into being.
Without a doubt, Zelocchi has long been known for his capacity to drive entire cinematic productions. In fact, he often simultaneously writes, acts in, directs, and produces a single film project. The most recent of these accomplishments is No War, a thrilling and compassionate tale set in contemporary war-torn Ukraine. The exhilarating movie traces the unlikely union of a CIA operative tasked with locating Russian weapons of mass destruction and a vulnerable refugee girl in need of a noble hero.
The Spontaneity of Enzo Zelocchi's No War
For a project set in an active war zone to go from pre-production to release within the very same year that the war itself broke out seems dizzying—and rightly so. Ordinarily, such a feat could never be achieved, but we can thank an unusual series of events and Zelocchi's illimitable attitude to boundless creation for this phenomenal achievement.
So, how did No War come to be? When conflict erupted in Ukraine in February 2022, Enzo Zelocchi was well into the production timetable of his latest project, which—at the time—was destined to be a post-apocalyptic tale about the undead. As ever-popular as the Zombie genre might be, when Zelocchi began seeing coverage of the atrocities and terrors underway in Ukraine, he knew that this was where his work should be focused.
With the autonomy that only comes with being a singular multi-faceted creative force behind the moving cogs of movie making, Zelocchi decided to let his instincts guide him. He diverted the resources, locations, and budgets set aside for the previously-envisioned ghoulish motion picture towards a new manifestation—and made quick work of writing a fresh script along the way.
Soon, Zelocchi and his crew were putting together the final pieces of a project set well and truly in the now, taking viewers into the heart of the Russo-Ukrainian conflict. A fresh casting process led them to Emilia Nimak—a real life Ukrainian refugee—who would step into the role of Zelocchi's captivating and sometimes scene-stealing co-star. Nimak plays Malen'kaya, a refugee on the run and in need of rescue, while Zelocchi plays leading man and CIA operative John, who takes the child under his wing in order to ensure her survival as they strive to reach the border with the Russian military close on their heels.
Among those joining Zelocchi in the groundbreaking production process for No War was editor and cinematographer Michele Ballarini, whose eye for frames that entrance speaks volumes throughout the movie. Actor Antonio Gibertini also leaves his mark as one of John's ill-fated fellow CIA operatives, contributing to a rising tension that ensures viewers' hearts will race from opening to closing credits.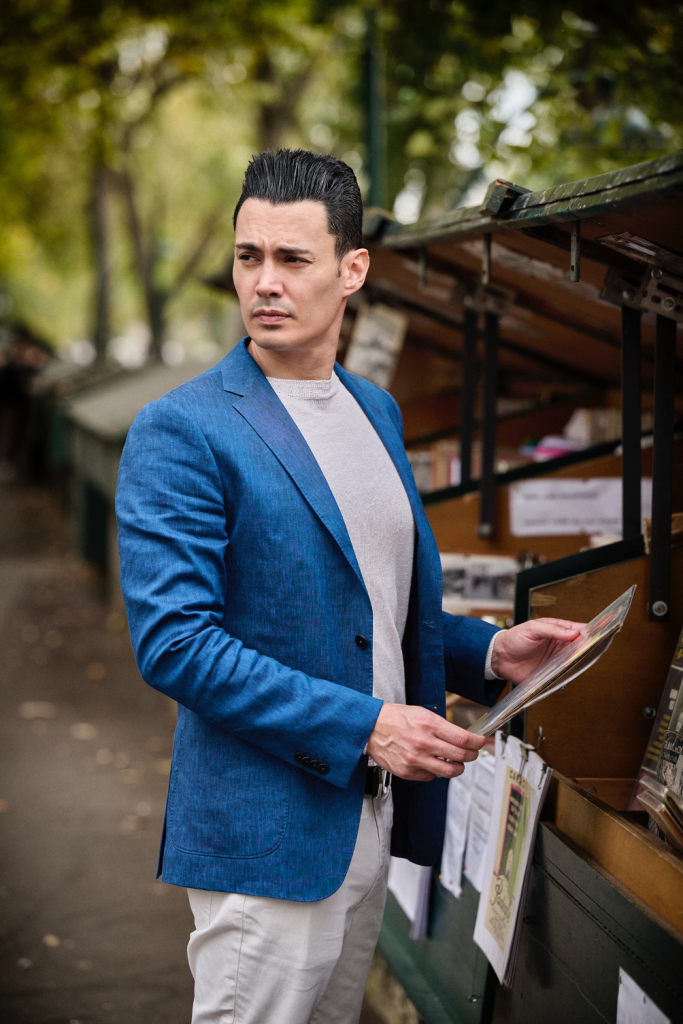 Recognition of Enzo Zelocchi's Latest Achievement
Unsurprisingly, this ambitious project has been received with rapture by a growing number of cinematic bodies and film festivals around the world. At time of writing the feature has swept up 94 awards and counting, with Zelocchi claiming awards for best director at the Cineddiction Spotlight Film Awards and Rome International Movie Awards, and best actor at the Florence Film Awards, Milan Gold Awards, Cannes World Film Festival, and Barcelona Planet Film Festival—to name but a few.
More recently, as the movie continues to show at all the major film festivals, its premiere at the Vegas Movie Awards drew the mighty Award of Prestige for Zelocchi's direction in the Best Action category. Such accolades can be attributed not only to Zelocchi's ambitious pursuit of a creative project anchored in modern-day events, but also his fervent attention to detail.
Zelocchi is a dedicated advocate of the directing principle show, don't tell, and, in No War, has matched this skill for piquing the curiosity of his audiences with an impressive production value. That very tenacity led him to step into the cockpit of a military airplane and master its flight, while his call to intersperse phenomenal drone footage into the footage is sure to leave viewers flying—both experientially and emotionally.
In coverage of Zelocchi's awards, Cineddiction Films celebrated the performance of the two main stars of No War, describing Nimak's as "beautiful and touching" and Zelocchi's as "sincere and poignant."
Enzo Zelocchi – Paris part 2
Enzo Zelocchi – Paris part 1