Savvy, skeptical, and technology-first. Gen Zers are sophisticated, but not complicated. And here's how to attract, enchnat, and retain Gen Z customers — authentically.
You may already know this. Gen Zers are well-informed, fast, and savvy. And, yes, they are more likely to switch brands for a competitor offering quality, reasonably priced, and reliable products.
As a brand trying to attract and retain Gen Z customers, that might seem like a lot to handle. Yet, Gen Zers are coming of age, and will likely influence your market trends for the foreseeable future – perhaps even more so than Millenials.
So, how do you attract this bustling generation into becoming your best customers yet? Here are data-backed tips to attract and retain Generation Z customers going forward.
1. Meet Up Online
Gen Zers are digital natives. They grew up with the internet. As one example, they're the most likely generation to shop online among all generations. In 2022, 49% of Gen Z shoppers said in an Afterpay Gen Z US report that they like shopping directly on social media.
They are particularly elated about learning the latest trends they can incorporate into their own style and living, from their friends — and, increasingly, social media content creators (influencers).
Oh, another thing. The survey found that Gen Z shoppers prefer that you sell to them directly without the middlemen. A big reason for that is because they prefer to ask you questions about your product or service directly — and get prompt answers directly from your brand.
2. Engage Authentically
Gen Z are also practical and skeptical, according to a recent survey of 15,600 Gen Zers by the IBM Institute for Business Value. The findings showed that the youngest generation today prefer engagement based on authenticity, not marketing hype, sponsored opinions, or downright unethical brand behavior.
What this means for you, as an example, is not to make promises you can't keep, such as giving "alternative facts" or showing unreal, unattainable, and overhyped "before and after" ads.
Another example is to use lower-quality images that you haven't edited. These resonate with this audience the most, out of all generations, owing to their preference for real, attainable content.
3. Up Your Values As a Gen Z Brand
Here's the thing. The majority of 6,000 shoppers in the Shopper Influence survey said they cared a lot about the products they bought because they felt the purchases reflected their personality, beliefs, and values.
Gen Z and Millennials are more likely than Boomers (68% vs 43%) to agree that the purchases they make reflect who they are and what they value.
It follows that younger generations are likely to consider a brand's impact on society when making purchasing decisions.
In addition to ethical manufacturing practices, they are also looking at employee treatment and sustainable initiatives, so consider how you address these types of issues at your own business to attract and keep Gen Zers. They will find out at some point, so why not initiate a positive, authentic culture yourself?
4. Build Relationships with Gen Z Influencers
The 2023 LTK Gen Z Shoppers Study reports that 75% of the younger generation make purchase decisions based on creator recommendations. They look to their social media influencers for latest style updates, product quality reviews, and brand discovery.
Gen Z shoppers are even more likely (77%) to base their buying decisions on influencer recommednations when shopping in-person in your store.
This stems back to the skepticism these younger audiences have, owing to all the deceptive marketing they've seen growing up, .
Better yet, invest in creating like the creators do. Whether it is through instagram marketing, TikTok or any other influencer marketing platforms, you can create platform-specific content that emphasizes education or entertainment before conversions. It won't take long for conversions to follow.
Ultimately, you can "sponsor" their favorite influencers' content on Youtube, Instagram, or elsewhere. Just don't promise something you can't deliver. Gen Zers won't have a problem abandoning the brand of influencer that won't engage them transparently either – and speaking of switching brands.
5. Focus on Brand Enthusiasm — Not Necessarily Brand Loyalty
If you thought Millenials were less brand-loyal than Boomers, Gen Z shoppers are even less so — and for good reasons. People born after 1996 are likely to stick to a brand that innovates routinely, delivers prompt customer service, and offers quality products than cheap pricing alone.
They key to retaining Gen Z customers is to actively engage them. Again, this technology-savvy generation will be easier to reach online, especially on social media and mobile apps.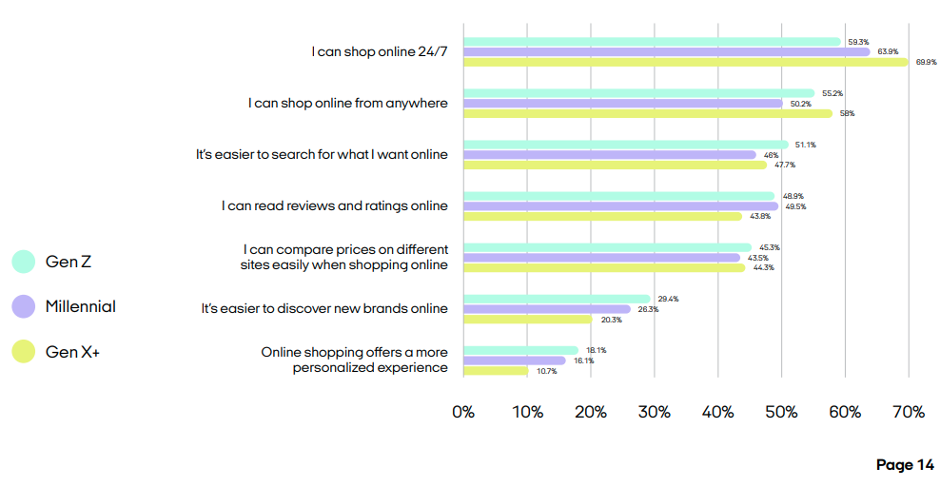 However, Gen Zers said in the study that they love to shop in-store because they can see, feel, and try on what they want before buying it. So, the customer experience you provide in-store matters.
As another example, 42% of younger respondents recommended adding games to your campaign.
There's something else. It's not a good idea to try to keep Gen Zers attached to your brand. They are already aware of alternatives and the best offerings of your competitors. If you want to edge out your competitors, it would be more productive to look for trends, engagement waves, and unique customer experiences to offer your Gen Z audience.
Better yet, you can boost their enthusiasm further by inviting them to be a part of your company. Here's what that means.
6. Invite Them to Participation and Contribute
Your youngest customers want to be heard. They are more likely than older generations to respond to surveys and offer honest, yet positive feedback.
According to the IBM Institute of Business Value survey, Gen Zers would be happy to make participate and contribute in activities, such as product design, content creation, and attended events you've sponsored.
Check this out: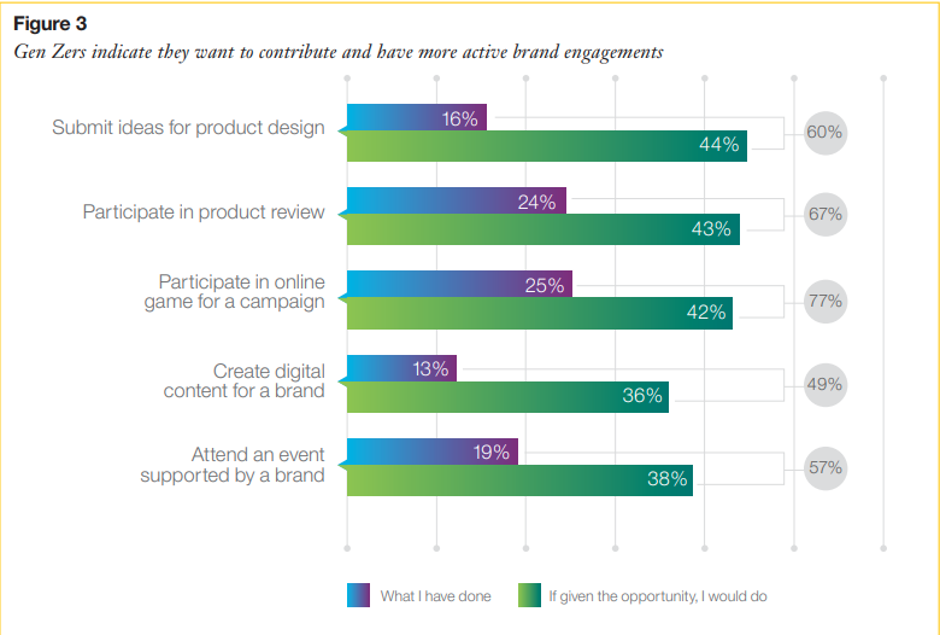 You can also contact this younger audience, although they prefer they be in control of how you can contact them, according to the same findings.
7. Innovate. Innovate. Innovate
Gen Zers were born at time when rapid innovation was the norm.
From your messaging to the communication channels you use to your product's features, they expect no less than continuous improvement.
One area of improvement is in deliveries and return policy. Gen Z customers expect fast deliveries and a transparent return policy, again, owing to the rapid innovations and fast-paced life they've grown up in.
What Next
Overall, making the sale should be your secondary concern when dealing with Gen Zers. Your first priority should be to build brand enthusiasm, engage them as valuable contributors, and maintain transparency and authenticity.
Gen Z customers are a well-informed generation that is increasingly making up a huge portion of retail sales. Putting these best practices to action in your company can help you attract, keep, and enchant Gen Zers. The sales will follow, eventually.