Lead-in Part
In the face of an increasingly dynamic and interconnected world, embracing AI-powered solutions has become imperative to stay ahead of the curve. Among the cutting-edge AI innovations, AI Flowchart tools stand out as indispensable assets, empowering organizations and individuals to streamline processes and boost productivity.
This article explores the distinct advantages of AI Flowchart software, spotlighting its capabilities in smart decision-making, easy flowchart creation, and process optimization.
Before we move to different AI flowchart generators, let's look at the importance of using an AI flowchart tool.
Automated Diagramming with AI: AI-enabled flowcharting automates the entire process from data interpretation to visual representation, saving time and ensuring accurate and consistent results.
Smart Formatting: AI-powered flowchart software offer intelligent suggestions and predictive capabilities to aid users in the diagram creation process.
EdrawMax
EdrawMax is a leading diagramming tool. From network diagrams to mind maps, this all-in-one diagramming tool is considered the #1 choice of students and professionals. The 2D diagramming maker has recently released an update that lets users create flowcharts and mind maps using artificial intelligence.
This AI flowchart generator comes with text-to-flowchart, which offers smart containers. Smart Containers automatically adjust the layout and size of shapes within a container, maintaining order and clarity within complex diagrams. This feature of EdrawMax is particularly useful when working on extensive diagrams with multiple components.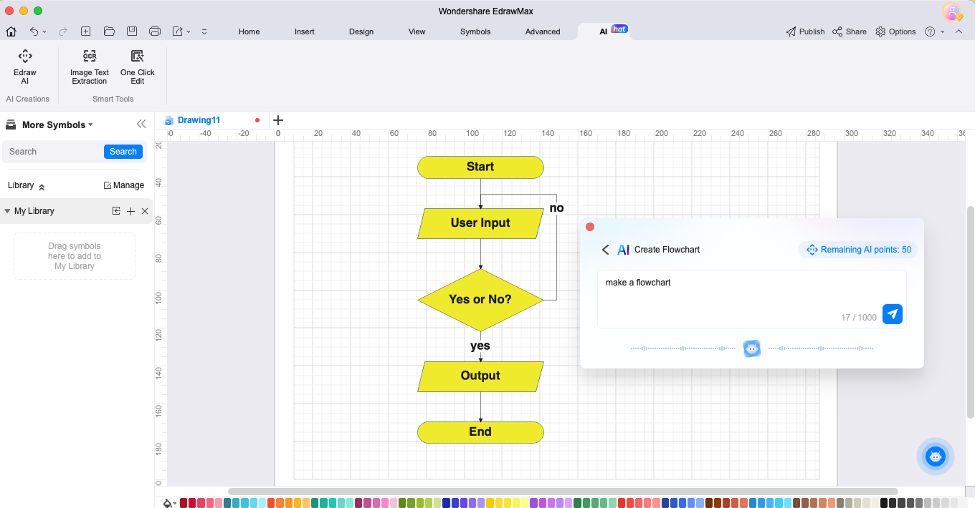 EdrawMax allows users to customize their symbol library, making it easy to store frequently used shapes, icons, and images. This personalized approach enhances workflow efficiency, enabling users to access their preferred elements quickly.
In addition to the smart containers, EdrawMax's AI generator lets you translate the content into multiple languages and even allows you to change or modify the tone of the auto-generated content. This way, you can change the AI-generated content as per your requirements.
Pros of EdrawMax
Boolean Operations for advanced shape manipulation and creative representation.
Trusted by over 30 million users worldwide.
Impressive Capterra rating of 4.6, indicating high customer satisfaction.
Cons of EdrawMax
To use EdrawMax's AI feature, you will require a good internet connection. It will become problematic if you are not in a good connectivity area.
Supported System: Windows, Mac, Linux, Web, Android, and iOS
Visme
Visme stands out as an exceptional online flowchart maker, combining user-friendliness with many features. Whether you're a professional seeking to create complex flowcharts or a non-tech individual with minimal design experience, Visme offers the tools and resources to bring your ideas to life in the most visually striking and engaging manner.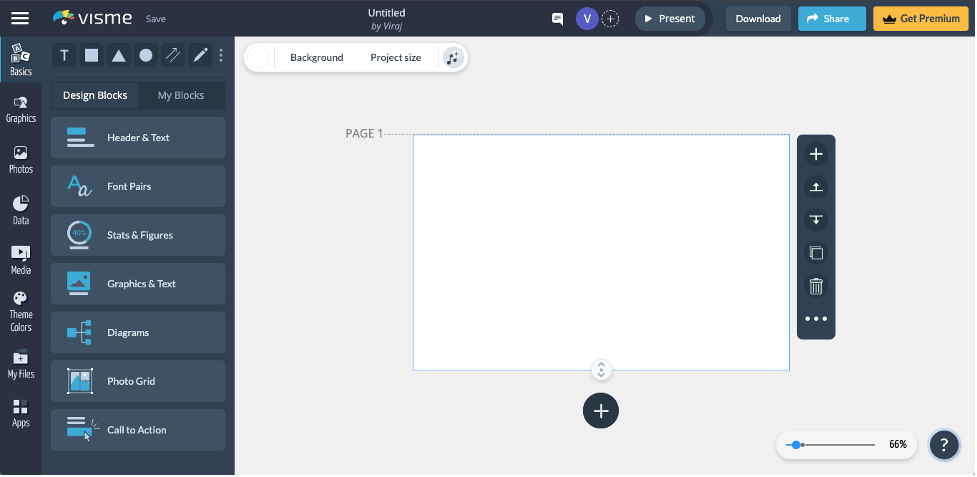 Explore the world of Visme and experience the joy of hassle-free flow diagramming today. With Visme, sharing your flowcharts with others is a breeze.
Download your completed flowcharts in different image formats such as PNG, JPG, and PDF, making them readily accessible for presentations, reports, and online sharing.
Pros of Visme
Download flowcharts in various image formats for easy sharing.
Cloud-based platform for seamless collaboration.
Interactive features to engage viewers in presentations.
Cons of Visme
Users have found it difficult to navigate between multi-slide views.
Supported Systems: Windows, Mac, & Web.
Taskade
Taskade's AI generator is a game-changer, redefining how flowcharts are created and customized. With its intuitive interface, users can effortlessly create complex diagrams with the help of smart suggestions and automated layout adjustments. The AI flowchart generator intelligently analyzes data and information provided by users, transforming them into visually captivating flowcharts in a matter of seconds.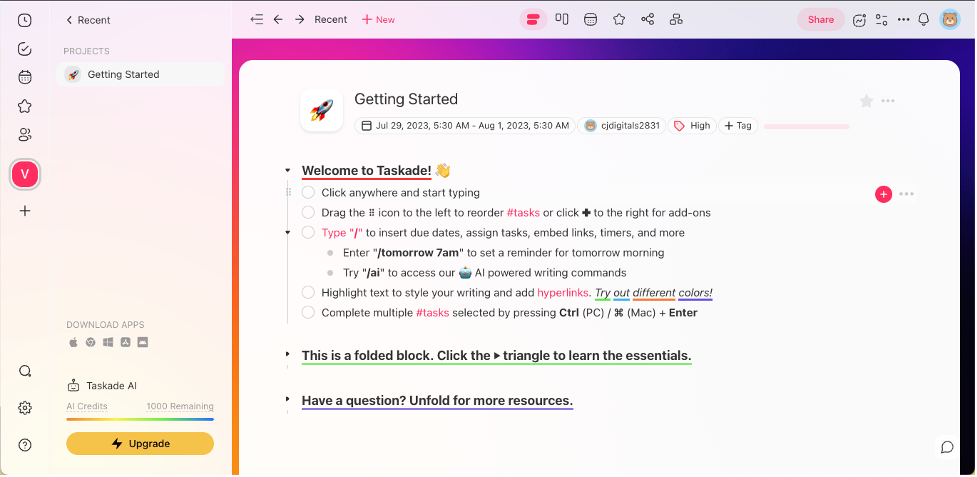 Moreover, Taskade's AI extends beyond flowcharts, allowing users to generate comprehensive workflows and diagrams, such as content promotion workflows and purchase order workflows, empowering businesses and individuals alike.
Pros of Taskade
User-friendly sharing options for easy distribution of flowcharts.
A multi-functional platform for managing tasks, projects, and notes.
Ability to create interactive checklists and to-do lists within flowcharts.
Cons of Taskade
The limitation of Taskade AI in the free version is a downside for college students or beginners. Taskade AI starts with the Pro version, which costs $13/month for up to 10 users.
Supported Systems: Windows, Mac, Linux, Android, iOS, and Web.
Whimsical
Whimsical offers a free version with a generous provision of 100 AI prompts, allowing users to explore the full potential of its AI capabilities without any initial financial commitment. This option empowers users to experience the benefits of Whimsical's AI-driven features before choosing a subscription plan that aligns with their individual or team needs.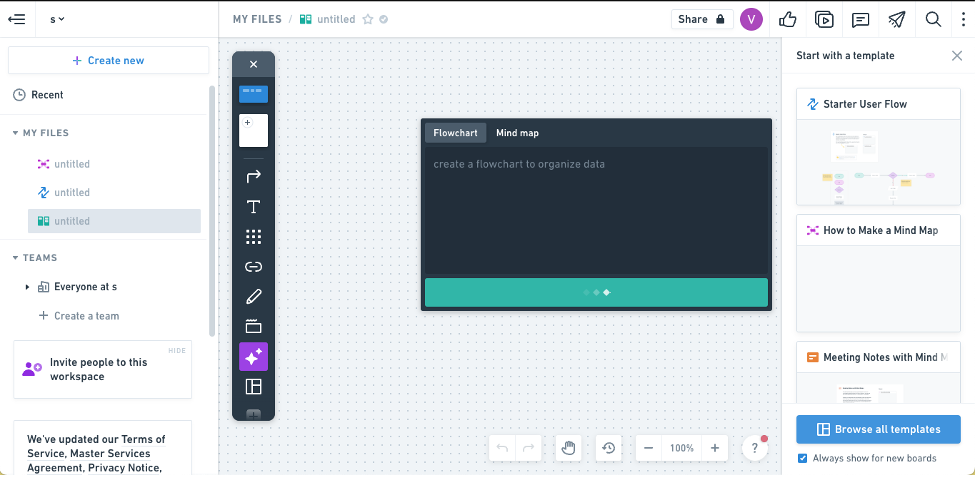 Whimsical stands as a cutting-edge flowchart maker that embodies innovation, collaboration, and efficiency. With its diverse range of features, seamless AI integration, and the trust of industry giants, Whimsical has become a powerful tool for visual thinkers, designers, and teams seeking to elevate their flowcharting and ideation processes to unprecedented levels. Embrace Whimsical today and unlock the boundless potential of creative visualization and streamlined project management.
Pros of Whimsical
Effortless sharing of process flows for transparent communication.
Innovative tool for visual thinkers and designers.
Efficient text-to-flowchart translation, saving time and effort.
Cons of Whimsical
Users have pointed out on review sites that even though Whimsical's interface is user-friendly, they are still required to access some online videos to get the hang of the tool. This might be time-consuming for those who are looking for an easy-to-access AI-generated solution for their flowchart-related work.
Supported Systems: Web
FlowCharts.ai
FlowCharts.ai takes pride in its user-friendly design, boasting a clean user interface that promotes seamless navigation and effortless flowchart creation. The smart engine of this AI flowchart maker, at its core, facilitates dynamic flowchart generation, ensuring minimal delays and optimal efficiency.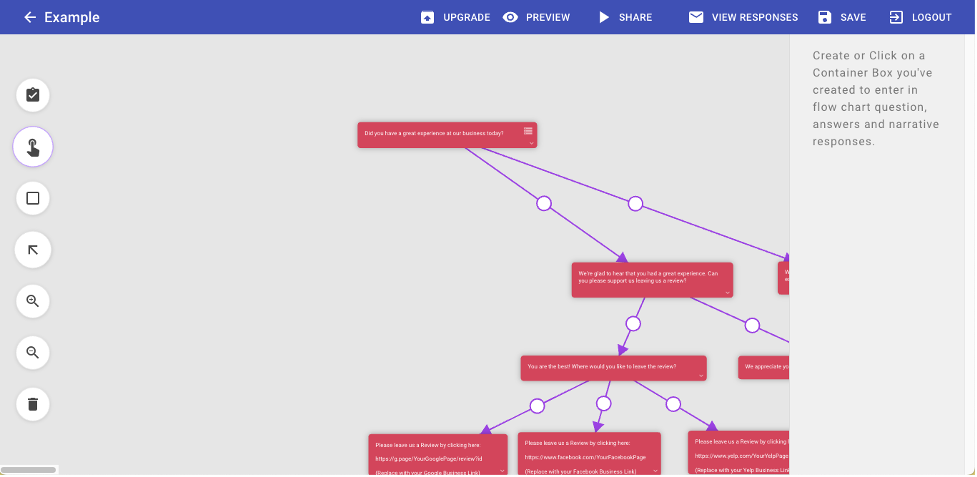 For users seeking accessibility and convenience, FlowCharts.ai is available for download on Google Play and Apple Store. This cross-platform availability empowers users to access their flowchart-making capabilities from their preferred devices, be it Android or iOS, without any restrictions.
FlowCharts.ai understands that each user's needs are unique and thus offers an economy plan that allows users to create one flowchart. This approach provides flexibility and scalability, enabling users to try out the platform and explore its features before committing to a suitable plan.
Pros of FlowCharts.ai
Streamlines workflows with dynamic flowchart generation.
Ideal for decision trees, funnels, and complex workflows.
Empowers creativity and imagination without limitations.
Cons of FlowCharts.ai
The tool is comparatively new, and no such reviews are on the trusted review site.
Supported Systems: Web, Android, & iOS
Key Takeaways
Delving into the world of AI flowchart tools has highlighted the remarkable strides made in simplifying and optimizing visual communication. From dynamic diagramming with EdrawMax to FlowCharts.ai's intelligent form creation, these tools cater to diverse needs, unleashing creativity and problem-solving potential.
The benefits of using AI flowchart tools extend to improved productivity, reduced manual effort, and better decision-making, profoundly impacting various sectors. Embracing these cutting-edge tools marks a transformative step towards more efficient, collaborative, and visually engaging workflows.