Email marketing is one of the oldest and most powerful marketing channels to make direct contact with potential customers. Email marketing is an important digital marketing tool to consider, as almost all internet users across the globe have an email address and check it regularly. Email marketing is basically broken down to two main categories; promotional emails and informational emails.
Promotional email marketing is normally good for an online store or an ecommerce website in order to promote new products or services they have on offer, while informational email marketing refers to a broader range of usages, such as newsletters, confirmation emails, subscription and welcome emails and a lot more. It also work for any kinds of web design properly.
Why is email marketing important for your online business?
There are many advantages associated with email marketing. We have detailed a few out of many benefits for you here.
1. Cost Effective
If your marketing budget is limited, email marketing is a good option, as it's almost free. All you need to do is create a form on your website and collect emails from your visitors and you are right to go! There are many email service providers that you can take advantage of at no cost by using their basic services.
2. SEO Enhancement
If you are trying to improve the performance of your website's SEO in Dubai, email marketing can do that for you by driving traffic to your website. The good thing about traffic from email marketing is that the visitors are already aware of what your content is about and they are most likely interested in taking action.
3. Loyal Customers
Nowadays, you are able to customize the marketing emails by mentioning subscribers' name on top of the email, sending the email at the right time, based on the geographical location and more importantly providing relevant information and promotions according to the market segment the recipients are interested in. Customized emails can give a sense of connection and belonging to the recipients.
4. Measurability
One of the most important benefits of email marketing is that it is measurable. There are quite a few valuable metrics like Open rate, Click Through rate, Click To Open rate, etc that provide you the capability of analyzing users' engagement. By utilizing the measuring metrics, you will be able to either continue with your current marketing strategy or change it to improve the metrics.
How does Email Marketing work?
The first step, when it comes to email marketing is to collect email addresses from potential customers as many as possible. You can gather your visitors' email addresses through subscription forms.You may motivate visitors more by offering free services such as ebooks to make them subscribe. Then, you may work with an email service provider to send emails to your subscribers. To make the most out of your email marketing, there are a few points that must be considered as listed below: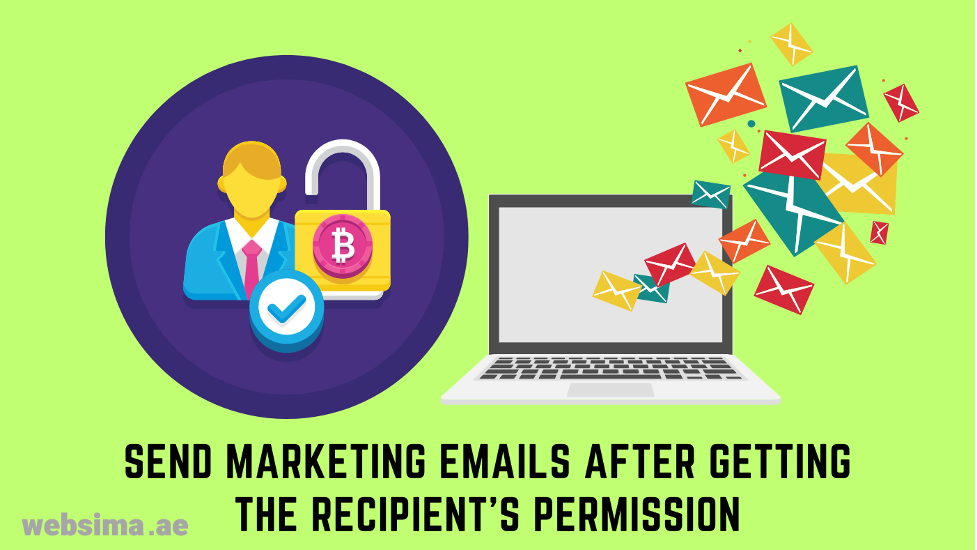 1. Ask for Permission
Never spam your subscribers by sending emails without their permission. You must ensure to get your visitors' permission to send emails at the subscription stage. By doing so, your emails will be sent to customers who are interested to know more about your products and services.
2. Make it as personalized as possible
Never send a general email to all emails on your database, as it would have a diverse consequence on your email marketing results. You must try your best to adjust content based on your subscribers' details, preferences and even geographical location. As a rule of thumb, put their name on top of the message, send promotions for products and services that fits into the area of their interest and at last respect your subscribers by providing an easy to do unsubscription option, if they wish to do so.
3. Measure it up
The performance of your email marketing campaign must be precisely measured within a reasonable period of time. There are a few powerful and free tools such as Google Analytics that provide informative reports about how your email marketing is performing. By doing so, you will have valuable information in hand that makes you capable of either making corrective actions or continuing on the same path.
Wrapping Up
Even though email marketing is one of the oldest digital marketing channels that goes back to the late 90's, it is still considered to be an effective marketing method. You must make sure to utilize this valuable channel alongside other marketing methods and tools where applicable. We would like to make a recommendation here for you to work with a reputable digital marketing service provider to rest assured of making the most out of your marketing budget. Websima DMCC is one of those companies who has managed to build a successful track record of success by delivering quality projects to a wide range of clients over the last decade.
If in need, feel free to contact Websima with confidence to book for a free consultation meeting with their talented team.